The EXT aerosol fire extinguishing system is an inert non-toxic solid that remains stable until it is activated. When activated, the aerosol attacks fire chemically and physically by preventing reignition and, in certain cases, explosions. In many cases, the Xpyro EXT aerosol fire extinguishing system is the only practical solution.
HOW DOES XPYRO EXT WORK?
The principle that Xpyro employs for extinguishing fire is unique. It is a special chemical that, when it reacts chemically, produces tiny particles and gases. The gaseous mixture (mainly carbon dioxide, nitrogen and water vapour), and minute particles (mainly potassium carbonates), mix together into a uniform fire extinguishing aerosol. Before being released into a protected area, the aerosol propels itself through a solid chemical coolant, which absorbs heat and therefore ensures the discharge and uniform distribution of the cool aerosol within the area.
Thanks to the high rate of aerosol discharge, fire suppression is extremely efficient. Microscopic aerosol particles exhibit gas-like three-dimensional qualities that allow the agent to rapidly distribute throughout the area. Aerosol is discharged in a couple of seconds and its long holding time prevents reignition.
Contact us! We are happy to tell you more about our Xpyro EXT system and its benefits: info@xpyro.fi, t. +358 20 781 1420.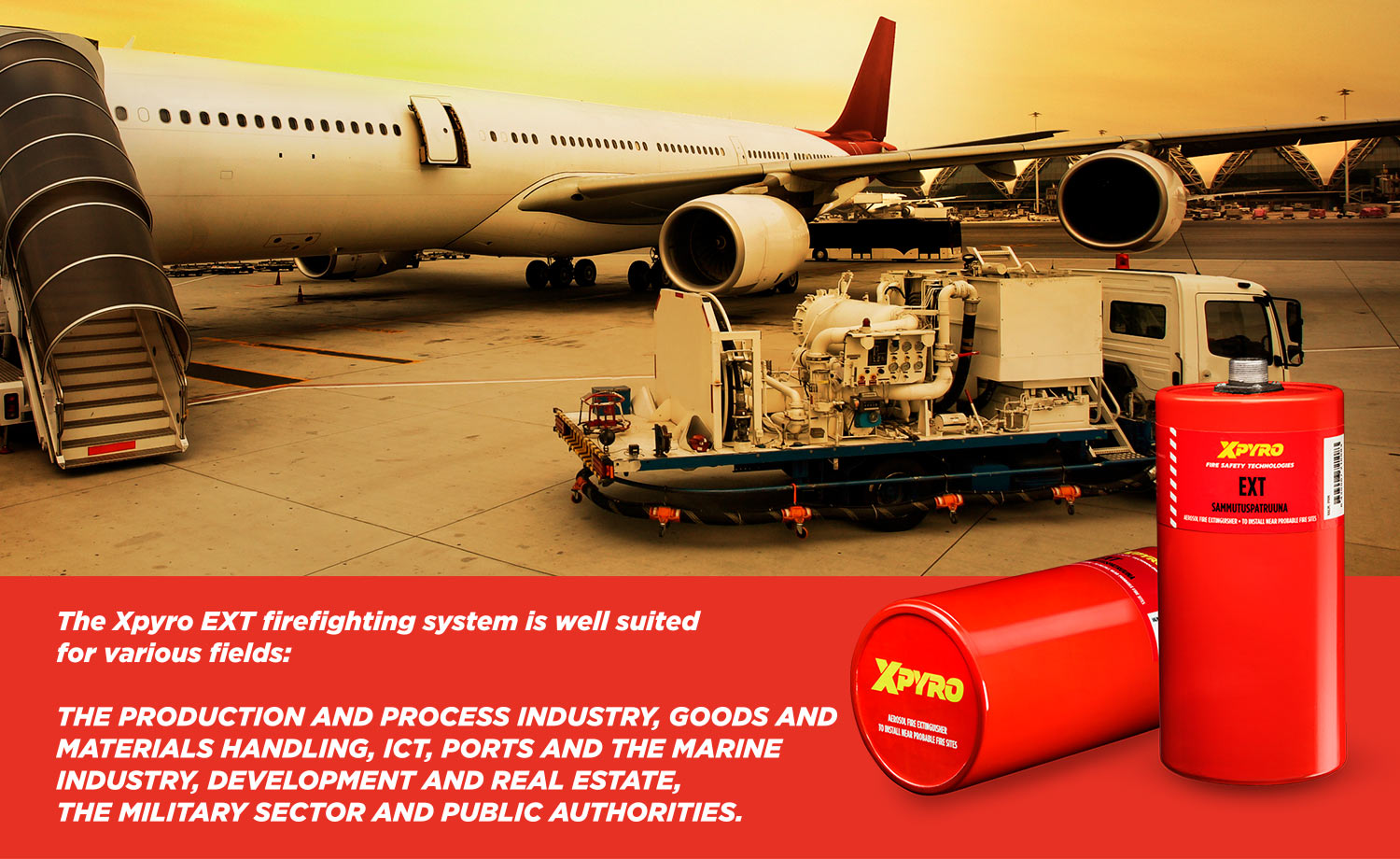 BENEFITS OF XPYRO EXT
Environmentally friendly
The EXT fire extinguishing aerosol is 100% environmentally friendly: EXT does not contribute to the greenhouse effect or ozone depletion.
Long service life and virtually zero maintenance
The service life of EXT canisters is as long as 20 years in an optimal operating environment. Canisters are sealed in unpressurised units. In addition to being lightweight and safe to transport, they do not leak, break or age.
Tested and certified
EXT aerosol technology has been certified worldwide, and it is the firefighting system recommended by numerous insurance companies.
No cleaning or additional damage
One of the benefits of the EXT system is that, unlike water mist or sprinkler systems, it will not result into major after-cleaning or additional damage when triggered.
Compact and lightweight
The EXT is the smallest and lightest fire extinguishing system available.
Effective
The fire suppression potential of the EXT system is excellent. Aerosol also penetrates places where water cannot reach. The EXT aerosol fire extinguisher has an extremely long holding time, which prevents reignition.
Easy and quick to install
No more need for pressurised cylinders, pipelines, nozzles or distribution systems. Once triggered, a new EXT canister can be installed in a matter of minutes, and the firefighting system is up and running again in no time.
Low toxicity
Fire extinguishing aerosols have been classified as agents with low toxicity. Aerosols have been medically and scientifically tested by authorities and research institutes around the world.
No damage to electronic appliances or other materials
EXT is safe for all materials. It does not corrode, oxidise or damage electronic appliances.
Can be connected to various systems
The EXT system can be connected to various centres, alarms and control systems. The system can be manually, semi-automatically or automatically triggered.
EXT is cost-effective
Minimal space and weight requirements, simple installation, and virtually zero maintenance make the Xpyro EXT the most cost-effective fire extinguishing system available.
Classifications

CLASS A
Combustible solids
-Suitable-

CLASS B
Flammable liquids
-Suitable-

CLASS C
Flammable gases
-Suitable-

CLASS D
Flammable metals
-Limited suitability-

CLASS E
Electrically energised fires
-Suitable-

CLASS F
Fats and cooking oils
-Suitable-