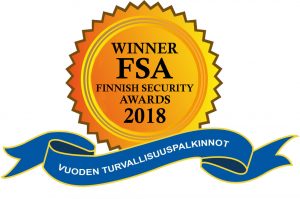 Xpyro's firefighting agents awarded the Finnish Security Award 2018 for the Security Innovation of the year.
XPYRO – ADVANCED FIREFIGHTING FOR DEMANDING CONDITIONS
Xpyro Oy is a Finnish fire safety company that specialises in the development and international trade of firefighting equipment, systems, and the various agents used in them. Our innovative products reflect our intensive investment in R&D as well as decades of experience in the field of fire safety.
Xpyro's goal is to make the world a safer place by providing our clients with easy-to-use, cost-efficient fire safety systems with high operational reliability – in other words, products that save lives and minimise damage to property.
Our innovative fire retardants offer a fast and efficient way to prevent wildfires and forest fires in an active and proactive way. Our fire retardants can be used for both creating firebreaks in the terrain and extinguishing fires smouldering deep in the ground – in a non-toxic and environmentally friendly way.
Our other advanced firefighting solutions offer an environmentally friendly and cost-efficient alternative to protecting sites and objects in which the use of traditional fire extinguishing methods, such as sprinklers, CO2 fire extinguishers or liquid-based extinguishing systems is challenging.